The SAO Utilities Project – Development Log<5th>
SAO Utils Develop Progress
Version
Beta 1
Iteration
4
Download

Platform
32/64bit Windows(Windows 2000, XP, Vista, 7, 8, 8.1, ⑨, 10)
Size
30MB (Programs:10M + Fonts:9M + Images + Sounds)
Progress

100%

2018-01-07
SAO Utils Development Log

Prototype

alpha
beta
v1.0
m1
m2
a1
a2
b1
b2
…
Beta 2 (Plan)
1.Synchronize status and activities with SAO Utils Community.
2018-01-07
1.New Introduce and Release Page.
2017-10-06
1.Beta 1 Update 2 released.
2016-05-02
1.Plug-in[ Sensor Data Extension ] 1.1.2 updated.
2016-03-30
1.VR Support Patch released.
2.Plug-in[ Web Browser Engine ] 1.1.3 updated.
2016-01-17
1.Recommending themes added.
2015-12-11
1.Beta 1 Update 1 released.
2.New plug-in[ Web Browser Engine ]
3.New plug-in[ Web Widget ]
2015-11-14
1.Progress updated – About web browsing.
2015-10-01
1.NERvSDK 0.2.0 updated.
2015-09-04
1.New plug-in [Sensor Data Extension].
2015-09-01
1.NERvSDK released.
2015-08-20
1.Beta 1 released.
2.3D launcher menu.
3.Theme System(SAO/GGO).
4.GGO Widgets and new plug-ins.
Events
WANTED: The Navigation Pixie – YUI Character Set for SAO Utils
Polls
Loading ...
Plans
V0.1.3 <2015-12-11>
Add IRC chatting to Mail Box plug-in.
Rebuild and Revolution

Dropping and summarizing the old framework, improving experience for appearance, performance and stability.

Rewriting all the codes for program architecture and GUI.
Releasing a handy and complete GUI library(for plug-in dev).
DPI awareness for different devices.
3D menu and hardware acceleration.
*Wizard for new users.

Theme System(SAO/ALO/GGO)

Not just changing the "Aspect", but having different "System" for each theme.

Support for switching, adding and config themes.
Including SAO, ALO, GGO theme.
*Extra ACCEL WORLD theme.

Plug-in Platform (SDK)

Enable developers write 3rd-party plug-ins to add new functions or modify system abilities, and share their works to others.

Providing plug-in development suit(NerveSDK / NERvSDK, including libraries, documents and essential IDE).
Core functions, basic GUI, theme system and plug-in inter-operating interfaces.
Dynamic plug-in management.
The Developer Center and Plug-in Market.
Maximizing plug-in compatibility(Including painless transferring between 2D and 3D mode).

Activities and Connectivity

Improve interactivity and real-time ability.

*Synchronize status and information with SAO Utils Community automatically.
*Real-time private message between users.
*Public chatting channel.
* The feasibility and practicability is still under discussing, might NOT be included in the next version.
Change Log
2017.10.06 – Beta 1 Update 2
Add support for system DPI scaling.
Add touch gesture support for tablet.
Add "Show file icon/extension" option for real folder menu.
Add "Remove/Reset plug-in" option in plug-in configuration panel.
Add "Delay startup" option in general configuration panel.
Add plug-in disabling hints when trying to remove a widget.
[ GGO Widget ][ HP-Bar ]Separate "Lock widget" and "Transparent widget" option.
[ Web Browser Engine ]Add support for Node-CEF.
Remove "Disable action filters" option.
Fix failed to open some files in real folder menu.
Fix launcher overlapped by task-bar.
Fix launcher cannot display wallpaper in some aspect ratios.
Fix cannot scroll launcher menu by mouse under some circumstances.
[ Mail Box ]Fix cannot remove friends.
[ Mail Box ]Fix some system cannot connect to servers via SSL.
[ Web Browser Engine ]Fix some pop-ups such as combo box menu does not display.
[ Bangumi ]Fix configuration dialog covered by information panel.
Some UI and functional adjustment.
Bugs
Visit BUG Tracker about SAO Utils project.
Notes
2016-03-30: Beta 1 Update 1 VR Patch is released!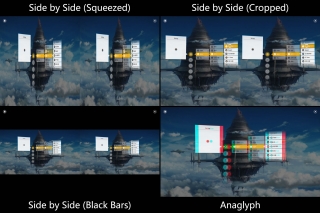 Please refer to
SAO Utils VR patch and tutorial (for Beta 1 Update 1)
.
2015-11-14: Beta 1 Update 1 is comming!
The optional [ Web Browser Engine ] and [ Web Widget ]
new plug-ins will also come with the update.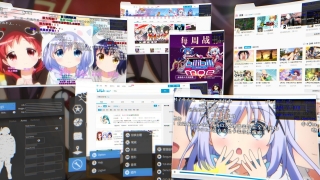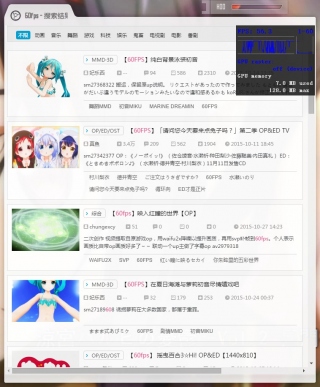 2015-08-20: Beta 1 released.
Here's the documents for the RangerCD's plug-ins: PDH数据扩展-帮助文档 and 音乐播放器支持-帮助文档 .
2015-08-18: Prepare to release Beta 1.
2015-08-07: Update progress report before the release of Beta 1.
For now, the SAO Utils Beta 1 is basically ready for release, but we still need some test before we could do so. Although not all the goals were achieved, we believe it's time to make a milestone for the beta version now!

Now SAO Utils has themes, you can switch between themes at any time via tray icon or launcher menu. The SAO and GGO theme will shipped with SAO Utils Beta 1, as other plug-ins, GGO theme is also loaded as a plug-in, so you can disable or even remove it if you like. Please note that SAO, GGO and other themes share one single menu set, that means, you don't have to arrange your launcher menus for each theme. However the icon sets for themes are not shared, so you have to pick up icons for new themes.
So let's get started to see the new preference panel in the Beta 1 version: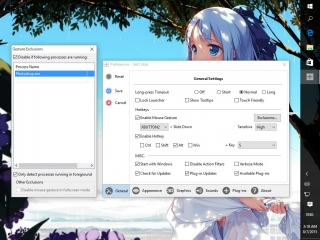 Preference & General Settings
Touch Friendly: Some handy modifications for touch screen, a close button will be pinned to top right corner if enabled, and the launcher will not get dismissed when clicking the background.
Exclusion… – Only detect processes running in foreground:
A new option for process exclusion, disable gestures only if a foreground process(with an activated window) is marked in the exclusion list when enabled.
Disable Action Filters: An option to prevent plug-ins from filtering the execution of an action. Now known plug-ins filtering actions are listed below:

Image Widget: When opening images like *.GIFs in the launcher, the plug-in provide you a window (2D or 3D) showing the preview image rather than opening it outside.
Mail Box: When opening mailto:// URL in the program, the plug-in provide you the mail composing window to send an e-mail rather than opening it by system(only if account is configured).

Check for Updates: Two sub-options were added:

Plug-in Updates: Check for plug-ins updates if enabled.
Available Plug-ins: Check for plug-ins not installed in SAO Utils if enabled.
*Mouse gestures issue conflicting with the Microsoft Edge browser is also fixed in the Beta version.


Appearance Settings
The main 3D/2D switch lays in the appearance settings, you can switch back to legacy 2D mode if you meet any problems.


Graphic Settings
Video Adapter: Optional for devices with multiply video cards.
Texture Filtering & Anti-aliasing: Very common options in games, has no effects if video card not does not support.
Stereo: Not supported yet. If you own Oculus Rift VR, please install Perception to enable stereo feature.


Sound Settings
Much more sounds events were added into the sound settings, you can not only test the sound effect, but also use the 'Presets…" button to import/export/share sound FX sets.
An ALO sounds set and many optional sound effects were shipped with the SAO Utils Beta 1, including the "Link Start" voices of Kirito, Asuna, Leafa, etc. Also the optional Accel World 'Burst Link' sounds package is available for download.


Plug-in Settings
Install…: Pick up Nerve Gear Package(*.NVG) to install plug-in in SAO Utils.
Config: Show plug-in configuration panel if supported.
?: Show plug-in guideline if supported.
Get Updates & Remove: Not supported yet.
What's more, our center of debugger idol group β's, aji plug-in developer, 😛 Ranger CD already made 3 plug-ins for SAO Utils Beta 1:
PDH Data Extension
Leap Motion Extension
Music Player Support
Please visit SAO Utils扩展补完计划 for more details, or reporting a Bug, discussing MC, KanColle, L4D, but no codes with him.
SAO Utils Beta 1 is coming soon, thanks for support.
2015-07-09: Beta 1 Oculus Rift / DIY Rift VR Testing.
2015-05-22: Updates Alpha 3/Beta 1 progress report about the HP-Bar and GGO widgets.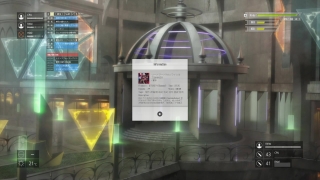 Alpha 3/Beta 1 is still under developing slowly…XD This time I'll show you the fresh new GGO widget and the completely rewrote HP-Bar desktop widget.


Adding unlimited amounts and types value items is now allowed for the GGO and new HP-Bar widget. While adding unlimited amounts of widgets is featured with the GGO Widget, also the topmost operation could be set for a single widget independently.


For a better user experiment to customize widgets, we provide pop up menus(with long press or right click) for users to accomplish widgets' configuration.
For HP-Bar, users could not only add/delete/move the sub bars, but also make widget *Attach to Launcher.
For GGO Widget, excepting vertical ordering for an whole line, users are able to move a single item horizontally and adding or removing widgets. Using "Align to" users can move widgets to the corners of a screen easily.

Currently GGO Widget supports "Empty Spase", "Static Image" and three ways to displaying a value for an item: "Numeric or Text", "Bar" and "Histogram". Users are able to put any values in their favor forms, sizes, positions.
The action setting for widgets is the same as the launcher does, we can set an action for items, actions like opening files, folders, links or executing command will be performed after a mouse click.

Clicking the "Choose a value" button in the middle of the item/bar setting panel, we can pick up a value with the value picker panel popped up.
For users, we can choose a value for widgets like HP-Bar or GGO Widget to display in this universal value picker panel, determinate suitable updating interval/parameters, valuing mode(Current/Inverse/Maximum/Minimum)/unit, invoking parameter or customizing displaying unit for a value.
For developers, we can add more functionals or data through writing plug-ins and implementing some interfaces. Actually, we already started testing for data interfaces in the private build. If you're interested in writing plug-ins for SAO Utils, please keep focus on the C++ SDK which will be released soon.

*Attach to Launccher: When HP-Bar is attached to launcher, the widget will be display on launcher automatically, if the launcher is in 3D mode, then HP-Bar will also be displayed in 3D mode.
Next steps: Launcher editing, File operations, Drag-and-drop, Theme framework.
2015-04-11: Updates Alpha 3/ Beta 1 progress report about the new SAO theme and plug-ins.





2015-02-07: Updates Alpha 3/ Beta 1 progress report and the new GGO theme.
We spent much time on the 3D engine and a handy UI library for SAO Utils…and now, finally, we could get back and begin the design and code for our next relase of SAO Utils. The UI part of the SDK will not be released to public until the private test is passed, this might take at least about 1 or 2 minor versions for testing. However, you're still able to develop non-GUI plug-ins for SAO Utils in the alpha 3 or beta 1.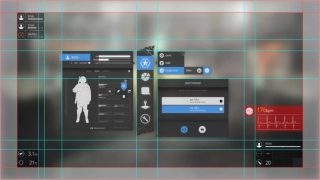 The design and reproducing of GGO theme is basically completed, using similar aspect ratio as the SAO theme.Also the compatibility and sharing problems of user menus between different themes should be considering.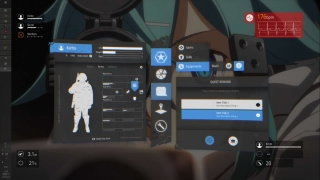 The custom data measuring and displaying is also a main function in the next release. The unified data measuring interface will be defined in Alpha3/Beta1, developers can use data from other plug-ins or supply custom data in the plug-ins. So users could decide which place to display what data they want while they don't have to edit config files like RM.

This test program running under layered mode rendering with Direct3D 9 with MSAA 4x and Linear Filter, single core CPU usage is around 10%,. The traditional render mode would decrease more CPU usage and increase the FPS.
2014-12-13: The 3D launcher menu is confirmed to be add into SAO Utils Alpha 3 / Beta 1.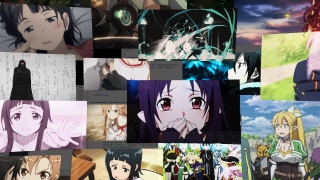 3D Launcher – Curve Window
The 3D menu will provided as an optional feature, user can swith between 2D and 3D mode anytime they want.

3D Launcher – TV FX + Motion Blur + MSAA 4x + Linear Filter
Except for the nice appearance, the curve window would expand our operation space–Just like the SAO animation, players are surrounded by the windows, they could see clearly and operate any windows at any time only with a simple head rotation. All the FXs(TV FX, Motion Blur, etc.) are also could be enabled or disabled as required.

3D Launcher – Scale Test
User can do scaling operation on the free windows to adjust the contents that you feel too large or too small. You can feel the curve easier if the window is large enough.

3D Launcher – Pickup and Camera Test
Similarly user can arrange the free window, adjust the position and depth of the window. Camera following as well as out of bounds adjustment will be provided.
2014-11-10: Implement the plug-in and a component managing tool SAO Utils Alpha 3/Beta 1, add plug-in development design.
2014-09-27: Today I make a new develop page for the SAO Utils alpha 3, for the logging and discussing purpose to the new features.
Advice or suggestion for the new functions are always welcome, you can Leave a comment or discuss in SAO Utils User Community – Suggestion & BUG Feedback form;
We will release a document for the plug-in developing interfaces, Developers after applying Develop Verify(in user information page) can discuss anything about plug-in development in SAO Utils User Community – Developer Communicating form.